Ernie Feibusch, helped to advance youth soccer in California for the tens of thousands of kids in recreational, select soccer, and high school leagues.
He went by "Ernie" but was known by most as "Coach".
His Spirit and Legacy lives on in all the youth that play soccer today in California and beyond. In his Memory, let us continue to live his passion and love of his game, our game, the world's game.
Ernie lived a monumentous life worthy of a major motion picture. At the age of 12, Ernie emigrated with his family from Germany to San Francisco. He would later return to Germany, though as a drafted gunner in the Air Force towards the end of World War II.
On his 25th mission aboard a B-17 "flying fortress", he and his crew were shot down over Stuttgart. Fortunately, they were able to crash land in the neighboring country of Switzerland where they were held for some months due to Switzerland's neutrality in the war.
Ernie eventually found himself in England. While there, Ernie was lucky enough to see England win the World Cup at Wembley Stadium.
Upon returning to San Francisco after living in England for a spell, Ernie coached at Lowell High School and played for the San Francisco Vikings.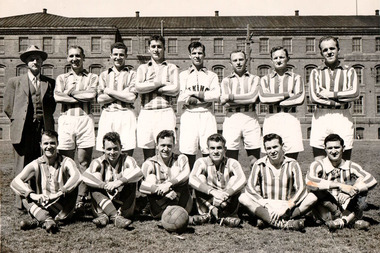 Ernie (front row, third from right) and his Vikings team. SF League Champs who went on to win the California State Cup. 1953.
Ernie later founded the Vikings Youth Soccer Program, which introduced thousands of San Francisco children to the "beautiful game" of soccer. This program eventually led to both San Francisco Youth Soccer League, and the San Francisco Vikings Soccer Club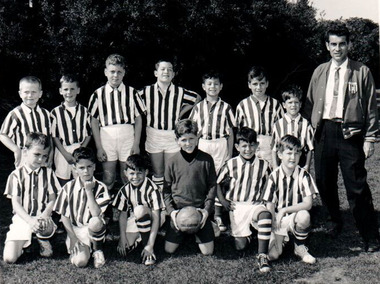 Coach Ernie with one of his Vikings Juniors teams. Circa 1962.
Ernie was also Head Coach of Lowell High School, President of the San Francisco Soccer Football League, Secretary of the United States Soccer Federation, and a National Soccer Hall of Famer.
Without Ernie, San Francisco soccer may never have grown to the extent it has. Thank you, Ernie, for everything you've done for us and San Francisco soccer as a whole. Your legacy and work will go on to touch generations of future players.